Pareja Unveils "Largest Lawn Sign" in 15th Congressional District
Hayward, CA - May 22, 2012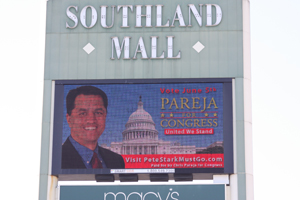 The Chris Pareja for Congress Campaign today launched what it calls the "largest lawn sign" in the new 15th District. The 27' wide by 15' tall digital billboard in front of Southland Mall is placed in one of the busiest transit corridors in the newly designed Congressional territory which includes the areas between northern Fremont and southern San Leandro and cities east to Livermore.
Learn more here.
Government is broken. It's up to us to fix it.
My name is Chris Pareja and I am running against 39-year incumbent Democrat Pete Stark in California's new 15th Congressional District.
Government is broken and people all across the political spectrum are angry that career-politicians are putting the desires of big campaign donors ahead of the needs of the people they were elected to serve.
In fact, I find that when I remove the political party labels, Americans agree on issues 70-90% of the time!
We all want a strong economy and the ability to earn a fair living if we work hard. We want a safe environment where we can raise our families, and be with those we love. We care about our health, and we want to make sure people who can't fully care for themselves are cared for. We want quality education for our youth. And most importantly, we believe we are smart enough to care for ourselves and our families if we are given the proper opportunities.
Democrats, Independents and Republicans have all told me they feel America has been hijacked by career-politicians that believe they can dictate what is best for the people. But every day, citizens – many of whom have never watched politics very closely – are starting to wake up to what is happening in Washington DC (and Sacramento), and they want to put their country back on track.
If you are tired of career-politicians vying for their own supremacy…
If you see that the real "us vs. them" battle is the ruling political elites in Washington DC (and their campaign contributors) versus We the People…
If you are looking for a fresh, new start in 2013, then take a moment and learn more about my stand on the issues here.
All my best,
Christopher "Chris" J. Pareja
Chris Pareja for Congress
PS. I'm always interested in what you have to say. Call me at 510.342.0226 or email me at chris@chrispareja.com.